I pulled up to our new place and yanked my suitcase out of the back of the car. And as I grabbed the suitcase's handle, I felt a thud on the top of my sandaled foot as a cast iron frying pan flew out and landed on me. Exhausted from packing up our condo an hour away I figured this was par for the course… a broken foot. I wiggled it and had the sensation of some weight that had hit it. But strangely enough it didn't even "leave a mark." That was when I knew this move was different.
As we lugged in our personal items into the furnished house, I noticed how light and airy the rooms were. Cheerful and cozy. And as we slept in our new surroundings, I felt a great peace that for some reason we needed to be here in this particular place at this exact time.
I wasn't as convinced that we'd made the right decision when the next few days when my husband found an enormous spider creeping into the kitchen and I killed a nasty cockroach in the bathtub. But my sense of adventure allowed me to be determined to find why we were here, living in the guest house behind the ancient farmhouse. Yes, we were closer to six of our grand kids and the rent was very affordable. These were wonderful and practical reasons to have moved to another city. But I sensed God intervening behind the scenes in other ways I couldn't imagine, to bless us and teach us lessons.
And we're not alone. Out in the pasture a nasty goose honks whenever we pop out of our door. She's real mean. She's also lost her role in life, appointed to be guardian of a little duck and … well, let's just say she lost her roommate to a predator. I don't think she's recovered from the guilt.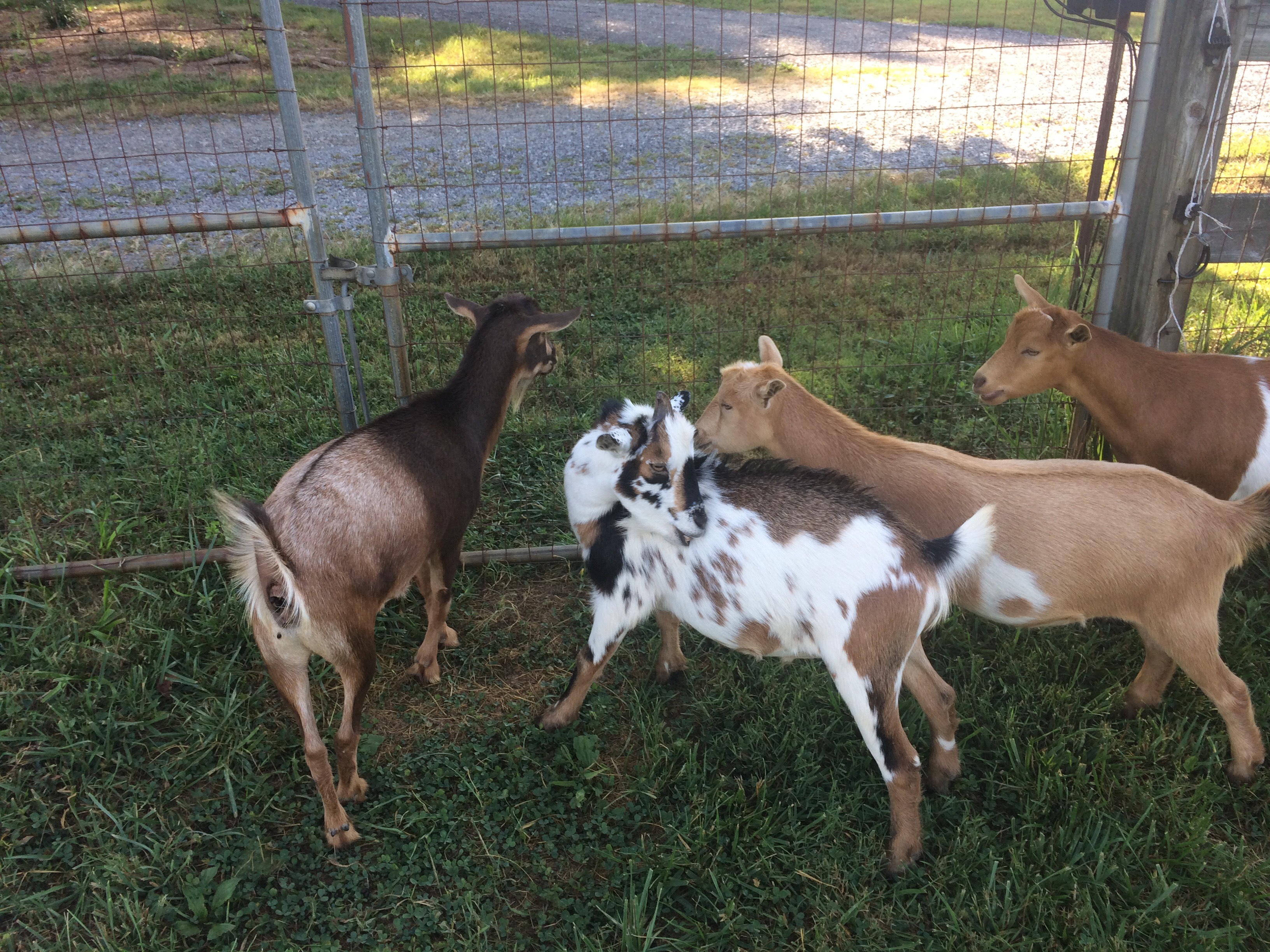 The five Nigerian goats are a different story. They bleat their greetings to me when I open the gate to walk the pasture, nipping at my pants leg, wagging their sparse tails, and butting me in the leg. I laugh as I watch them play king of the hill as they climb on top of a wooden bench trying to challenge each other to become top dog. And to their delight they've figured out that City Lady hasn't figured out how to latch the gate. Only seconds after I slipped out, one of them pushed their head into the space between the gate and the fence and lifted the lock. And once they tasted freedom they weren't budging. I looked pretty foolish trying to wave and get their attention as they made their way to the farmhouse's front porch and began destroying the owner's potted plants. Oops, my rent just went up.
So here's what I've learned:
Lesson of the goats: I'm reminded to become playful.
Lesson of the missing cable television: I've learned to become peaceful. A lack of sound can be good when it's just us and the crickets.
Lesson of the quiet evening: I'm learning to become a clearer thinker. One thinks better on a front porch.
Lesson of rest: I'm learning to be still and let God heal me— and He is. He's healing from an operation, healing from discouragement healing from stressful family situations healing from unfulfilled dreams. Rest can give you back your life if you rest your spirit.
Have you had a recent move? What have you learned? Leave me a note about a recent move you've had. And if you need encouragement for moving, check out my book, Changing Zip Codes. https://www.amazon.com/Changing-Zip-Codes-Community-Transplanted/dp/0984765557