Do you remember the movie, "Witness?" It's the story of Samuel, an Amish boy who witnesses a murder in a Philadelphia train station while he and his mother are headed to visit relatives. Then through a chain of circumstances, the investigative cop, John Book, ends up living with Samuel and his family for safety's sake. This "English" as the Amish call outsiders, uncouth in his modern ways, tries to blend in with the Amish community with many awkward results. Book stands out like a Hollywood star dressed in a tux, trying to feed a herd of pigs in a muddy pen. And though he thinks some of the Amish customs are, in their own way, backward, he learns to appreciate their hard work.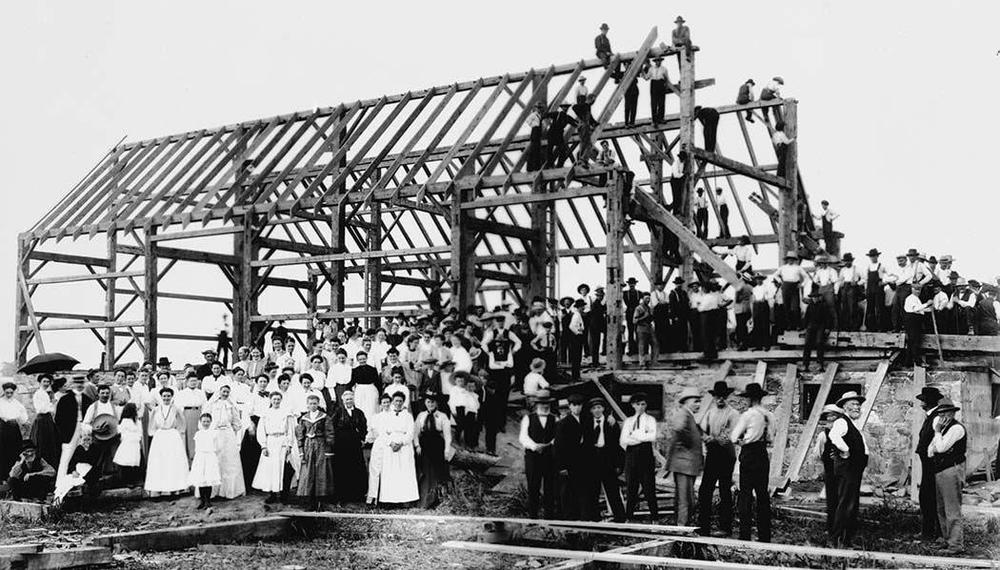 One of the best scenes shows the community coming together for a barn raising. From miles away sturdy young men, their straw hats flapping in the breeze, stride to the barn's intended site.  In the corner of the yard, women folk fuss over the heavily laden wooden tables. The tables groan with delicious homemade bread, cake, ham and side dishes − more than plenty to fill up the hardworking friends who showed up. The scene paints a magnificent ode to neighborliness. From the ground the men pull together like a finely oiled machine, each lifting, pulling and sawing as the structure takes form in front of us. Raise a bar in a day? Impossible, we English might say. But as the sun goes down, the lucky farmer views the completed structure, ready to house his livestock.
Now I've never wanted to be Amish but I do admire how they support one another. Their society is ingrained with the concept of pulling together, helping one another for the great good. That's a remarkable concept in our culture today. And at the end; they celebrate with heaped plates of the best food on the planet. That I can say for a fact. When we lived in the Midwest we never passed up an opportunity to eat at one of their restaurants. Biscuits dripping with apple butter, chicken pot pie, country fried steak, creamy mashed potatoes, blueberry and buttermilk pie created culinary memories had to duplicate. (I could go on but the saliva will be dripping onto my laptop.)
I thought about the Amish barn raising after launch my new book, Deep End of the Lake. In an English sort of way, I experienced my own barn raising.
Except it was a book.
Except it was electronic.
Except I didn't have a kitchen full of goodies.
But I did have a community who did the heavy lifting for me to help my new book grown legs.  And it was a party. I'm amazed to have friends and family willing to celebrate with me the culmination of five years hunkered over a word processor with a plot morphing here and there, lacking roots. An aimless child not willing to follow any set path.
When I finally received that contract from Lighthouse Publishing of the Carolinas I had to verify. "This is a real contract?" I asked my publisher. (Yes, I'm a dork).
So I'm fine with book raisings.
Love it.
Love my friends and readers. It's a good thing.
And so is buttermilk pie.