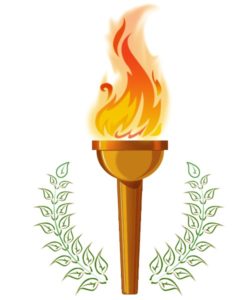 Not a lot of talk about harkening. Haven't read the word on anyone's blog or heard a television anchorman slip it in during a news segment.
When I hear the word, I picture it written in gold script, hidden in an obscure book that's been banished to the back shelf of my small town library. It stirs up images of a man dressed in a long brown linen robed man in medieval garb, dirty cord around his waist, holding a torch. As he stands outside on a dirt path, his gnarled hand beckons the masses to, "Go this way."
Whatever does it mean?
It's an old expression and quaint way to say- "attend, listen or pay attention."
I'll admit I wasn't good at it when I was a young girl. My teachers noticed my absent look and duly noted the fact on my report card. How many report cards had, "Carol has a tendency to daydream and not pay attention," scribbled in the comment section?
Why people don't want to participate?
Unfortunately, encouraging others to harken the culture and understand Christ's message is not chic. Much more fun to go diddling along enjoy life, as we throw off the pair of glasses we need to examine life. I mean, who wants to be put in that category where they're judged, packaged and labeled a small minded bigot. ("Seriously, do you really mean all people are selfish and have sin they have to deal with? What era are you from?") Some segments of our culture believe those of strong opinions belong in the
THOUGHT JAIL
or at least swept to the corner with their face to the wall where they have no audience. Those who encourage harkening are suspicious to those who chose to go with the cultural flow.
And yet, we've just had a national election that has forced us to harken our country's future. It's a lesson that if we don't harken early, we are forced to pay attention to national issues later.
Another reason for our lack of harkening in daily life is simple. We just don't care enough for people. Our people-harkening skills are woefully lacking. We're busy shuttling children to dance lessons, going to parent teacher meetings, showing up at work five days a week, coloring our hair, going to baby showers and football games, babysitting, shopping for birthday, anniversary or Christmas presents or catching up on the latest news from the election. Modern life is exhausting. Who has time? I know I don't do it enough, and shame on me.
But it's so much effort
 Let's face it, harkening is hard work. Much more fun to go see a movie or have friends over for a barbecue.
But it should be our love for people that compels us to suggest family, friends, and neighbors to examine what life is all about. Harkening is the first step.
Soon we will be singing, "Hark the Herald Angels Sing," But we don't have to wait for a Christmas carol to remember to pay attention, especially to the good news of Jesus.
In the meantime, don't wait for the angels to get out the message. We must all become harkeners (is that a word?).
It's simple, really.